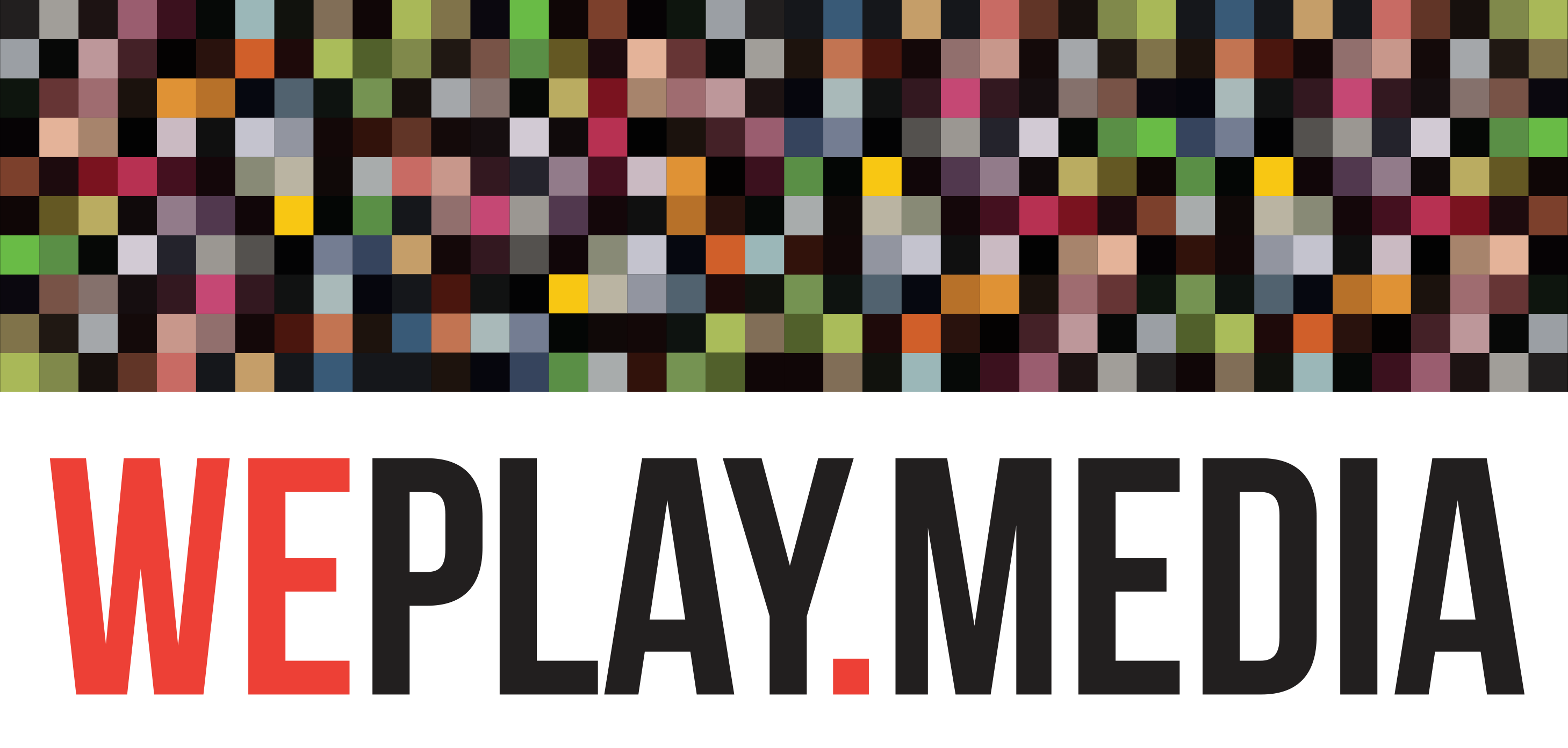 WEPLAY.MEDIA LLC is headquartered in Phoenix, Arizona and has a studio in Manila, Philippines. WEPLAY.MEDIA specializes in the development of games and apps for mobile devices, web and PC. We work with publishers where possible and focus on licensed content as a means to quickly and efficiently build audience.
WEPLAY.MEDIA holds several coveted licenses and has had deep experience in business partnerships with some of the worlds leading brands.
The company was co-founded by Mark De Simone, CEO and Graeme Warring, COO. Mark was one of two original founders of Rainbow Studio, which sold to THQ in 2001, and 2XL Games Inc. Graeme founded FunGuy Studio in 2007 and is a current shareholder of 2XL Games Inc.
The company employs either directly or through it's wholly owned subsidiaries, over 70 staff across all disciplines of development, engineering, art, animation and management.  
WEPLAY.MEDIA has it's corporate office at 14201 North Hayden Road, Building A, Suite 2B, Scottsdale Arizona 85260. In Manila the company operates from a number of office suites located in the Philippine Export Zone Authority permitted Burgundy Corporate Tower, located at 252 Sen Gil Puyat Avenue, Makati.
The following are a selection of free to play mobile games developed by the WEPLAY.MEDIA team.
Current In
Development
Published
Apps
Co-Developed
and
work for hire
WEPLAY.MEDIA Console Game Credits
As Co-Founder of Rainbow Studios Mark De Simone produced the following game titles.
Principals Experience
The following are sample of the game publishers the principals of WEPLAY.MEDIA have worked with on past projects.
WEPLAY.MEDIA Technology
Where possible WEPLAY.MEDIA and its subsidiaries prefer to develop in the Unity Technologies development platform.

The company also has a license to 2XL Games technology for use on a case by case basis. Mark was the original technology programmer for Rainbow Studios and developed much of the key technology used in Rainbow Studios games, the precursor of the 2XL engine.

The physics and automotive simulation of the engine is considered to be world class and a DLL has been integrated into the Unity Engine, enabling the highest quality racing simulations on the Unity platform.

Our Philippine studio has extensive Unity experience having developed a wide variety of games on the platform as well as natively on iOS and android.

The company uses 3D Studio Max and Maya for its 3D modeling needs and utilizes all Adobe Creative Cloud services.

XXL Racing was formed to capitalize on the deep experience of the WEPLAY.MEDIA team in the racing genre which spans multiple titles across console, mobile and PC and featuring off road motorcycle and truck racing, street and track motorcycle and car racing along with science fiction vehicles.

In 2014 XXL Racing acquired the exclusive mobile gaming rights to the international MotoGP racing franchise in 2014. The game will be released in Q2 2015 in time for the 2015 MotoGP season.

XXL Racing is also developing the mobile game Monster Trucks for Reliance Games. Based on the movie Monster Trucks, produced by Paramount, it will be released immediately prior to the movie launch on Memorial Day Weekend 2015.
XXL Racing is a wholly owned subsidiary of WEPLAY.MEDIA.

Graeme Warring and Darwin Tardio founded FunGuy Studio in 2007. The company is based in Makati, the commercial center of Manila, Philippines. The company employs approximately 60 staff in the following disciplines.
Game Programming
Server Programming
User Interface development
User Experience development
Game Design
3D modeling
2D graphics
Graphic Design
Community Management
Social Media Optimization and Management
Web Development
Search Engine Optimization
Accounting
Management
FunGuy Studio is owned by WEPLAY.MEDIA and functions as our internal development team, while also doing work for other publishers on a work for hire and co-development basis.
WEPLAY.MEDIA Current Projects
WEPLAY.MEDIA and it's wholly owned subsidiaries are currently working on the following projects.

MotoGP – Championship Quest a highly refined motorcycle racing game for iOS and Android. Release date Q2 2015

M.C.Wars – Dead In 5 Heartbeats – an action RPG game on iOS and Android in the genre of clashing outlaw motorcycle clubs using the IP and character of Sonny Barger, the founder of the Hells Angels Motorcycle Club which is concurrently being made into a movie produced by FOX. Release date Q3 2015

Monster Trucks – a side scrolling action platform game on iOS and Android using the original IP developed by Paramount for the movie Monster Trucks that will be released in May 2015.
Moral Dilemma – a social quiz game for iOS and Android developed by WEPLAY.MEDIA to be self-published in Q4 2015.
WEPLAY.MEDIA Leadership

Mark De Simone : CEO and Co-Founder
Mark joined the game industry in 1993. He co-founded Rainbow Studios and grew the company from a handful of developers to 120 staff comprising 4 game development teams. Mark led the team in both production and technology development. Rainbow produced many titles for PC, PS2/Xbox including the Motocross Madness series for Microsoft, the ATV Offroad Fury series for Sony and many other titles for Atari, Activision and Electronic Arts. Rainbow sold to THQ in 2001. In 2005 Mark was one of the initial founders of 2XL Games and set up and remotely managed a captive outsource facility in Shenzhen and Singapore comprising about 100 staff.

Graeme Warring : COO and Co-Founder
Graeme Warring founded a game studio based in Manila in 2007 and has since been active in the entertainment space developing mobile games for the likes of Warner Bros, Time Warner and Outblaze Studios. He oversees the studio operations and business development of the company including licensing. Graeme is a shareholder of 2XL Games Inc. Prior to his involvement in gaming Graeme built an international travel company operating 28 hotels, 170 coaches, 36 retail outlets and employing over 1000 staff.

Ara Shirinian – Principal Designer (Phoenix)
Ara has been designing games for console and mobile for over 15 years. He is an adjunct professor at Arizona State University teaching game design, and has previously held senior game design positions with THQ Digital Studios, Nicalis Inc., Acclaim Studios and was a Senior Editor at "Tips and Tricks Magazine" authoring over 80 strategy guides.

Darwin Tardio : General Manager (Manila)
Darwin oversees the development team based in the Philippines. The company hires and trains local talents to support the game outsourcing business. He is currently the Vice- President of the Game Developers Association of the Philippines (GDAP), a nonprofit organization composed of about 30 game studios in the Philippines. His professional experience spans 10 years as a programmer and multimedia artist of social games, mobile and online games and have worked on games such as Gunbound, Mu Online, Rakion, Sqwishland and, Ben10 Xenodrome. Darwin also helps local academic institutions establish game development and design courses.

Sean Hammond : Executive Producer (Manila)
Sean is a filmmaker and animator by trade. Sean has invested his academic and professional experience in 2D and 3D animation and graphic design. Sean is from England, he has been working as Executive Producer on leading titles such as 2XL Racing, Cashflow 101, and a range of Turner properties including Mechs Vs. Aliens, Ultimaze, Ben 10 and Sqwishland to name a few and oversees a team of around 50 staff.

Mike Chow : Lead Programmer XXL Racing (Shanghai)
Mike is a senior technology and graphics developer.  His experience ranges from developing core graphics technology for Sun, 3DFX and Sony (for the PS2) through PS2/PS3/Xbox360 technology and game development for Rainbow Studios and Electronic Arts to Mobile game development for Tencent in Shanghai.

Oliver Tittel : Technical Director (Manila)
Oliver has been programming professionally for the past 10 years. He is adept on multiple programming languages such as C++, C#, Java, Php, HTML5, Phyton and Actionscript. Prior to his current role, he has been responsible for developing security systems and tools for MMOGs by the largest game publisher in the Philippines, Level-Up Interactive. He has been part of the team that launched Ragnarok Online. RF Online, Freestyle and Rose Online.

Sharen King : Executive Producer – Moral Dilemma
Sharen King is Executive Producer her experience is working across industries both domestically and internationally in brand and multi-cultural marketing, business development, strategic planning, public relations and media communications for SME organizations. Sharen held the position as Marketing Director for start-up company Your Fan Base that later evolved to e'motophoto a technology company utilizing digital media to connect individuals through personal storytelling. Her expertise in gaming began in a crisis management role as VP of Operations in 2007 for Beljam Technology ltd a Belgium owned gaming company located in the Greater Antilles Island of Jamaica.
Contact No: 480-225-7292
Skype: sharen sierra